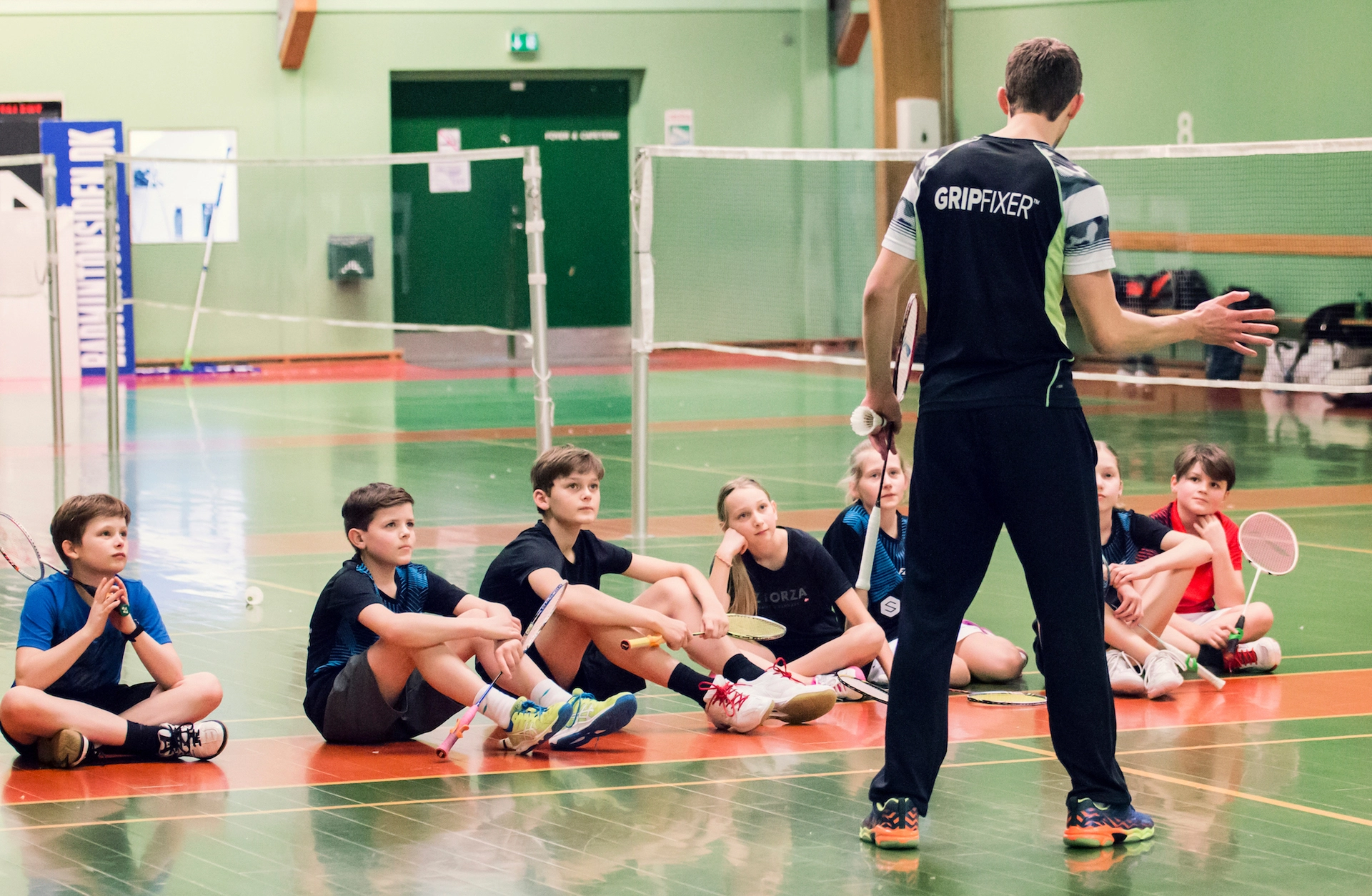 We've collected 37 exercises you can do at home.
Each exercise has been assigned a level of difficulty, ranging from 1-4 (1 being the easiest). You can also see whether you can do the exercise alone or if you will need a partner or two.
There is a short description of each exercise, but if you need a more detailed explanation we've linked a video to show you exactly how it's done.
Have fun! 🏸
Exercise

Level

Alone/multiple

Explanation

Link

The correct grips

2

tutorial

How to grip correctly.

dgi.dk/badminton/oevelser/13086

Boomerang

2

Alone

Overhand strokes (clear etc) with a still shuttle.

dgi.dk/badminton/oevelser/10478

Juggling - solo – 1

1

Alone

Juggle a balloon with your hand. Alternate between forehand and backhand.

https://www.dgi.dk/badminton/oevelser/13073

Juggling - solo - 2

2

Alone

Juggle a balloon. Alternate between forehand and backhand.

dgi.dk/badminton/oevelser/13089

Juggling - solo - 3

3

Alone

Juggle a shuttle, and alternate between forehand and backhand.

https://www.dgi.dk/badminton/oevelser/13091

Juggling - solo - 4

3

Multiple

Different juggling exercises.

https://www.dgi.dk/badminton/oevelser/13096

Team-juggling

3

Multiple

The players alternate between hitting hte shuttle. Count how many you can get.

https://www.dgi.dk/badminton/oevelser/13094

Obstacle course - 1 – jumping exercises

1

Alone

Complete the obstacle course. You can add a timer if you want.

dgi.dk/badminton/oevelser/13081

Obstacle course - 2 - with beanbag throw

1

Multiple

Complete an obstacle course and end it, with throwing the beanbag at/to your partner.

https://www.dgi.dk/badminton/oevelser/13087

Obstacle course - 3 - balance beanbag

1

Alone

Complete the obstacle course while balancing a beanbag on the rackethead.

dgi.dk/badminton/oevelser/13088

Obstacle course - 4 - with serve

1

Multiple

Complete an obstacle course and end it, with a serve. Count completed serves.

dgi.dk/badminton/oevelser/13084

Obstacle course - 5 - with serve

3

Alone

Complete the obstacle course. When doing the obstacles you have to juggle a shuttle (or a balloon) meanwhile.

Home-made obstacle course - inspiration

1

Alone

In the links are obstacle courses for inspiration.

https://www.youtube.com/watch?v=tYowDw1Vfsk

https://www.youtube.com/watch?v=bbWNBcxVMdA

Clap the hand (frontcourt movement)

1

Multiple

The player has to use the correct footwork and end by clapping the partner's hands.

(See the clip from 0.45)

dgi.dk/badminton/oevelser/10472

"Goal-keeper"

2

Multiple

Try to get the ball the land in the other players "area". The throws has to be with a curve on, so the opponent has time to react and catch the ball.

https://www.youtube.com/watch?v=mWlzZJNLGUM&list=PLfPjUxfrH7_0Sdei7zaVov5tG-oI1_bts&index=41

Scissor-jump with backwards-movement, with beanbags

1

Multiple

Practice scissor jump and practice the trowing-movement. You can add targets to hit with the beanbag (or tennis ball).

dgi.dk/badminton/oevelser/5990

Faster than your own shadow

2

Multiple

10 shuttles, try to avoid getting hit

dgi.dk/badminton/oevelser/13086

Overhand throw with shuttle – short

1

Alone

Practice the correct swing for overhand-stroke. Count how many you can hit out of 10-15 throws.

https://www.youtube.com/watch?v=zX0l4RJRcQA&list=PLfPjUxfrH7_0Sdei7zaVov5tG-oI1_bts&index=4

Overhand throw with shuttle – clear

1

Alone

Practice the correct swing for overhandstroke. Count how many you can hit out of 10-15 throws.

https://www.youtube.com/watch?v=kC4k2TCpz_o&list=PLfPjUxfrH7_0Sdei7zaVov5tG-oI1_bts&index=6

Overhand throw with shuttle – smash

1

Alone

Practice the correct swing for overhand-stroke. Count how many you can hit out of 10-15 throws.

https://www.youtube.com/watch?v=nWIFqeH53ug&list=PLfPjUxfrH7_0Sdei7zaVov5tG-oI1_bts&index=5

Overhand throw with shuttle – Backhand

1

Alone

Practice the correct swing for overhandstroke. You can also use a tennis ball. Count how many you can hit out of 10-15 throws.

https://www.youtube.com/watch?v=ogQIyiVArgg&list=PLfPjUxfrH7_0Sdei7zaVov5tG-oI1_bts&index=7

Underhand throw - Backhand (1.18)

1

Alone

Practice the correct swing for backhand underhand stroke. You can also use a tennis ball. Count how many you can hit out of 10-15 throws.

https://www.dgi.dk/badminton/oevelser/13072

Precision throw

1

Alone

Set up different targets.

https://www.dgi.dk/badminton/oevelser/13080

Target serving

2

Alone

Practice the backhand short serve.

dgi.dk/badminton/oevelser/6032

Serving-golf

2-3

Alone

You can do it with both forehand and backhand serve. You can create all sorts of "holes" to challenge yourself/eachother.

https://www.youtube.com/watch?v=4hfpjXNJU8E&list=PLfPjUxfrH7_12Tw_JC_8ERi1dDAgWUhtu&index=16

Serv – Joshua Eipe's udfordring

4

Alone

Serving challenge. Make two lines - lowest line is 1.52m from the floor, and the other is 15 cm higher (or more if the players level needs it). You use a timer to find out how long it takes you to hit all 12 serves with in the two lines.

https://www.facebook.com/groups/123117091103848/permalink/2773812822700915/

Hit and catch

3

Alone

Hit the shuttle up into the air, and try to catch it with your strings. When you "catch" the shuttle try to adjust your grip while catching.

https://www.youtube.com/watch?v=zNGs1fzv0Lo&list=PLfPjUxfrH7_0Sdei7zaVov5tG-oI1_bts&index=44

Continuously hit and catch.

4

Alone

The goal of the exercise is the same as above, this is just a little bit more challenging.

https://www.youtube.com/watch?v=EXgMDinVcNo&list=PLfPjUxfrH7_0Sdei7zaVov5tG-oI1_bts&index=47

Continuously hit and catch (alternating between forehand and backhand).

4

Alone

The exercise is the same as above, but you have to alternate between catching the shuttle with the forehand and backhand.

https://www.dgi.dk/badminton/oevelser/4359

Catch the shuttle on the back.

3

Alone

Start with the Rackethead next to the shuttle with a forehand grip. Go "under" the shuttle and adjust to a backhand grip.

https://www.youtube.com/watch?v=RByav-ScoNs&list=PLfPjUxfrH7_0Sdei7zaVov5tG-oI1_bts&index=48

Control the shuttle while flipping the Racket around

3

Alone

Again it is a great exercise for learning to adjust the grip with your fingers.

https://www.youtube.com/watch?v=IY_eEs4Upbk&list=PLfPjUxfrH7_0Sdei7zaVov5tG-oI1_bts&index=54

Juggling while doing tricks.

3

Alone

Hit the shuttle high into the air, and then do some kind of trick – Racket behind the back, sit down and get back up, hit the next one between the legs or behind the back.

https://www.dgi.dk/badminton/oevelser/4359

Juggling two shuttles simultaneously

4

Alone

It's a fun and challenging way of learning underhand strokes, and helps you learn adjusting your grip quite quickly.

https://www.youtube.com/watch?v=grt0bjQCjJE&list=PLfPjUxfrH7_0Sdei7zaVov5tG-oI1_bts&index=58

Juggling of the Racket - 1

4

Alone

It's a fun little "bragging" exercise J

https://www.youtube.com/watch?v=dHVwCotp86M&list=PLfPjUxfrH7_0Sdei7zaVov5tG-oI1_bts&index=45

Juggling of the Racket - 2

4

Alone

It's a fun little "bragging" exercise J

https://www.youtube.com/watch?v=TR6NlgXtuMo&list=PLfPjUxfrH7_0Sdei7zaVov5tG-oI1_bts&index=46

Catch and throw – teamwork.

4

Multiple

Start with a shuttle on their Racket, and then "throw" the shuttle to each other at the same time. Catch it.

https://www.youtube.com/watch?v=EXgMDinVcNo&list=PLfPjUxfrH7_0Sdei7zaVov5tG-oI1_bts&index=47

Teamplay - 1 - How many can you get?

3

Multiple

Have about 4-5meters between you, and play to each other, mainly with underhand strokes. How many can you get in a row?

https://www.youtube.com/watch?v=1C-kpA6CTO4&list=PLfPjUxfrH7_0Sdei7zaVov5tG-oI1_bts&index=70